Are you looking to take your Instagram Marketing to the next level? These 4 mobile apps will help you attract more leads, reps, and followers on Instagram!
Pictures are worth a 1000 words and having the right image to message to market match will always draw a highly engaged crowd. People LOVE to share images and videos. It's also one of the easiest ways to create content to build an audience.
When done correctly, you will not only generate leads, but you'll be able to make money off the 90% who say "NO" to joining your business.
Make sure you share this with your team as this will help them too.
Why Instagram Marketing?
Instagram is the ultimate branding tool that will help you get more leads and sales for your business on a very part-time basis.
Check out this infographic by websitebuilder.org who compiled some amazing stats on Instagram.
I was introduced to Instagram marketing back in 2014 by Instagram Marketing expert April Marie Tucker who shared with me 4 mobile apps that can build your brand, followers, and get leads on Instagram in as little as 30 minutes/day.
Best part is you can create amazing images with your phone or tablet without being artsy fartsy or a computer geek.
Mobile Apps #1: WordSwag
I ADORE WordSwag! It's one of the easiest and most fun Instagram apps to work with. It's available both on Mac and Android platforms.
What's so awesome about WordSwag is it comes pre-loaded with some awesome free photos and templates. All you need to do is enter in your tip, a quote, your source, and in minutes have your own unique piece of branded visual content.
Watch this video demo of Instagram Marketing expert April Marie Tucker showing you a demo of what you can do with WordSwag.
Click Here to Subscribe to My YouTube Channel
Mobile Apps #2: Ripl
Everyone is creating their own branded images and quotes. How would you like to stand out from the crowd by turning those quotes into videos?
Let me introduce you to Ripl. Ripl is a cool app that allows you to create Canva like images, but you can animate them.
It has two versions, a free version (which includes their watermark at the bottom right of your images or animations) and a paid version. The paid version is $9.99/month.
Here is an example of how Ripl looks on Facebook
Mobile Apps #3: GIPHY
If you haven't noticed already on Facebook, GIPHYS are becoming a very popular way to comment on people's posts. You can also use GIPHY's on Instagram to create some engaging posts.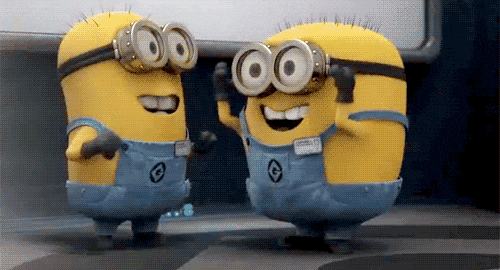 GIPHY is an app that let's you find a GIPHY meme that's perfect for what you want to share, and then creates a 15 second video loop for you.
To share a GIPHY on Instagram you follow these 3 steps:
First, you search for a GIPHY you want to share.
Second, then tap on the Instagram share button. You will then be asked to enter in your email address and then the 15 second video will be sent to your email address.
Third, download the video to your phone and then upload it to Instagram!
MOBILE Apps #4: Lumyer
Lumyer is another one of my favorite mobile apps that April Marie Tucker Introduced me to. Lumyer allows you to animate your images, and is one of the easiest ways to repurpose your Instagram content.
It's available both on Mac and Android platforms. To see how easy it is, check out the tutorial videos below.
How to Create Your Lumy on Android
How to Create a Lumy on iOS (Mac)
Doc's Thoughts on 4 Mobile Apps
Wasn't that helpful?  What mobile app excites you the most for Instagram?
I'd love to know! Share it in the comments below and let's start a conversation!
Here are more resources to help you build your 2 sales/month game plan.
Attraction Marketing: 7 Step Formula to Dominate
3 Steps to Create a Killer Instagram Strategy
How to Make Extra Money FAST Anytime
Want to be personally coached by top Instagram marketing expert April Marie Tucker? Register for the Attraction Marketing Summit, where she is one of 39 featured trainers who will walk you through how to use attraction marketing to get more leads, reps, and customers into your business leveraging the internet and social media.
All you need to do is click here to register for your limited time only FREE ticket today.
Did this help you? If so, leave a comment below and share it with your friends on Facebook.
To Your Success,
Skype: drlisathompson
Email: [email protected]
Need a coach? Check out my Work With Me Page where I help people every day. 
P.S. If you're generating less than 10 leads per day for your business online, this will help you with your Instagram marketing (and is on sale!)  – Click Here for Instant Access
[optin form="29169″ style="wide"]