Affiliate marketing business is one of the fastest ways to make money online. Affiliate marketing is not just simply posting your links everywhere on social media.
To generate profits it involves a specific strategy that will draw customers to you like a bee to honey. Here are 10 tips that will help accelerate your results.
8 Strategies for Your Affiliate Marketing Business
1) Make Sure Your Affiliate Company Uses Cookie Tracking
Cookie tracking is a way to track web visitors "from click to conversion". When someone clicks on your link, a small text file or "cookie" is placed on the person's broswer. This cookie stores your affiliate ID. When someone makes a purchase with your link, you will get credit for the sale.
2) Patience is a Virtue
When you are building an affiliate marketing business don't expect results overnight. People do business with those who they know, like, and trust. You will need to build a responsive audience before the sales come in. Just take consistent action every day.
3) Do Your Homework
Make sure that you do your homework before promoting a product/service/business. It's more than just researching affiliate companies. You need to know your market.
What are their pain points? Before I promote a product, I always ask myself "is this product/service what my market needs?"
4) Always Be Professional
Always be professional when giving product reviews. Don't bash other companies or products. Give a fair and balanced review.
Provide information that will enable your leads to make an informed, quality decision.
THE TOP EARNER FRAMEWORK?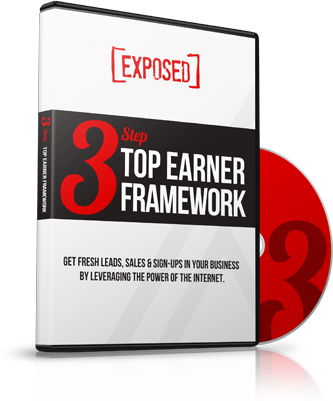 FINALLY Unlock the 3-Step Framework and Learn How to Get Fresh Leads, Sales & Sign-Ups in YOUR Business Leveraging the Power of the Internet.
5) Create Relationships
The hallmark of a successful affiliate marketing business is all about creating relationships. Go to social media groups and forums that are related to your niche. Answer questions and leave meaningful comments.
It's not the number of leads that will give you leads and sales. It's building a highly engaged audience that will buy from you over and over again. That is the ultimate leverage!
6) Have a Followup Email Marketing Plan
On average, people need to look at an offer 7 times before making a decision. With that said, you need to be consistently sending emails to your list. The more you email your list, the more engaged your audience will be.
Follow the 80/20 rule when sending emails to your list. 80% of your emails must be value based, while 20% are promotional.
7) Use Social Media
Make sure that you create social media accounts. The ones I recommend are Facebook, Twitter, Instagram, Pinterest, Google Plus, and YouTube.
Use your name and not your companies. You want to be branding yourself as the authority and expert.
Have a headshot of you smiling. Use the same picture throughout all of your social media accounts for branding.
8) Have a Lead Magnet
One of the easiest ways to build your list is to offer a lead magnet. The lead magnet can be a free video, podcast, or ebook. In order to receive this training, people need to leave their contact information.
Make sure this lead magnet is what your market wants. Once people are on your list you can then promote different affiliate products that your market wants.
Affiliate Marketing Business Final Thoughts
When done correctly, anyone can grow a profitable affiliate marketing business. When you apply these 8 principles shared above you will see results.
What affiliate marketing business tip resonated with you most today? Let's keep the discussion going!
Skype: drlisathompson
P.S. If your upline does not have a step-by-step blueprint for ONLINE marketing success, check this out (unless you already have too may leads) – Click Here for Instant Access