This week's trainings focused on mindset and leadership tips that will help you attract more leads and sales to you with speed, pleasure, and ease!
Feel free to share this with your team as this will help them as well.
Sunday, June 2nd, 2019
We kicked off the week learning how to build a business when you have an unsupportive spouse.
There is nothing more stressful in building a business when you have an unsupportive spouse. The support may be there in the beginning, but if you're not achieving results that support can wane over time.
My friend, mentor, and top network marketing professional Ray Higdon advises people to be realistic when talking to their spouses when it comes to building their business.
This means promising a six figure income in 6 months. What it means is sitting down with your spouse and talking about goals, setting out an action plan of the amount of time you're going to spend working the business, and doing the work.
I recently read the book "Build an Empire" by Elena Cardone. In the book Elena equated a couple working together like a clysdale horse. A clysdale horse by itself can pull 8,000 pounds. A pair of clysdale horses can pull 24,000 pounds.
When times get tough is when fear can take a supportive spouse and turn them into an unsupportive one.
In 2008 when the real estate market collapsed, Elena found Grant sitting on the couch watching the news and looking despondent. They were also expecting their first child Sabrina at the time as well. Grant told her they were finished. And Elena didn't buy that for one minute.
In the video below I share more of the story and how we can learn from Elena and Grant how to turn a spouse from an unsupportive spouse into a fighting team.
Click Here to Subscribe to My YouTube Channel
Monday, June 3rd, 2019
On Monday we learned appropriate social media etiquette when it comes to building your online empire.
Most business owners treat social media like it's their own online diary. That is, they will document EVERYTHING that goes on in their lives.
The good. The bad. The Ugly.
However, there is information about your lifestyle that are important for your audience to and there are things that your audience doesn't need to know.
Sharing too much information can be detrimental to building your empire.
I recently read the book "Build an Empire" by Elena Cardone and in the book both her and Grant have a specific set of social media etiquette rules that they follow. And those rules allow them to attract the right people to them.
In the video below I share with you my best tips when it come to social media etiquette to grow your business.
Click Here to Subscribe to My YouTube Channel
Tuesday, June 4th, 2019
On Tuesday I shared with you my best tips to help you handle haters while building your empire.
How do you respond when someone leaves a hateful comment on your social media posts? For most people they crumble like a cracker and it will derail their progress.
For others like Grant Cardone, they WELCOME and embrace haters. They say, haters are a sign that you're doing something right.
I recently read the book "Build an Empire" by Elena Cardone and in the book she shares an interesting perspective how to handle haters.
In the video below I share with you what I learned from Elena when it comes to how you think about haters and how to not let them get to you.
Click Here to Subscribe to My YouTube Channel
Wednesday, June 12th, 2019
On Wednesday I shared with you my best tips for breaking out of a rut including a great tip from Elena Cardone's book "Building an Empire."
Are you in a rut right now in your business? Do you feel like you're spinning your wheels and getting nowhere fast?
I've observed in my life and in other's lives that people fall into a rut when things are going good. When things are good, there is a tendency to sit back on your laurels and you lose the momentum you had when you first got started.
For example, I would be prospecting and talking to new people every day for my business. Then, I would get sick for 3-4 days and couldn't reach out to people. When I got better, it was much harder to get back into the game to start prospecting people again.
Sound familiar?
The key to get out of a rut is to take action.
I recently read the book "Build an Empire" by Elena Cardone she shared a story of how she got into a rut after having her second child and gained 10 pounds. Grant asked her one day when she would lose 10 pounds. Elena glared at him, and then realized that she got stuck in a rut because she started wearing the same sweat pants every day when she came home from work.
In the video below I share with you what she did to break out of her rut as well as some other tips I've learned that helped me get my momentum back and getting into action.
Click Here to Subscribe to My YouTube Channel
Thursday, June 6th, 2019
On Thursday I shared with you how to build a royal court for long term success. Who you surround yourself with is so important as you grow your business.
Have you ever wondered why in medieval times the King and Queen hand picked people in their royal court? They needed to surround themselves not with "yes" people but with people who would help grow and defend their empire.
There are two types of people out in the world. Those who add to the energy of the group and those who drain energy from the group. If the king and queen surrounded themselves with negative people, their empire would fall. 
When you're building your business who you choose to surround yourself with will determine your success or failure in business.
I recently read the book "Build an Empire" by Elena Cardone where she shares how her and Grant are very selective when it comes to having people in their inner circle.
In the video below I share with you some practical tips how to surround yourself with people who are going to help you move your business forward.
Click Here to Subscribe to My YouTube Channel
Friday, June 7th, 2019
We capped off the week sharing with you the biggest network marketing leadership tip I learned from top earner Ray Higdon to not only create duplication but prevent attrition in your network marketing business.
Want to know the secret to building a loyal network marketing team?
When you enroll a new distributor into your network marketing business, there are three questions that go through their head.
Does it work?
Will it work for me?
Can I do it?
If your people answer "NO" to any of these questions, they will more than likely leave the business quickly. According to my friend and mentor Ray Higdon, the key to duplication and reduce attrition is to keep everything simple. Direct them to use the tools.
Your people are watching everything you do. Most people get into network marketing are looking to build their business on a very part time basis. If they see anything that is complicated or time consuming, doubt will set in and they will quit.
In the video below I share with you some additional tips I learned from Ray when it comes to leading your team.
All Caught Up on the Content From Last Week?
It's my mission to give family businesses the tools, training, and support to build an online brand that will become their legacy for generations to come.
Did you enjoy these trainings from last week? Which training resonated with you the most this week?
What will YOU do differently in the coming week that will help you build your brand and legacy because of what you've learned this week?
I'd love to know! Share it in the comments below and let's start a conversation!
More Resources for You:
Get Leads on Social Media With Videos
ATTRACTION MARKETING BUNDLE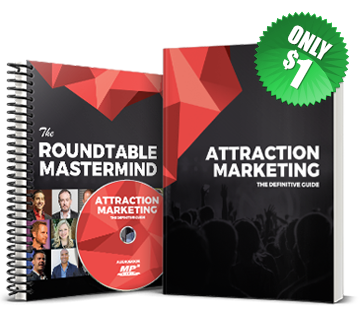 Get a 68-page "all-inclusive" e-book, 82-min mp3 audiobook, and a roundtable mastermind to help you attract buyers for YOUR business.
To Your Success,
Skype: drlisathompson
Email: [email protected]
Facebook:  facebook.com/drlisathompsontraining
Need a coach? Check out my Work With Me Page where I help people every day. 
P.S. If you're generating less than 10 leads per day for your business online, this will help you (and is on sale!)  – Click Here for Instant Access