This week's trainings focused on mindset, building your audience, and creating your first lead magnet that will help you attract more leads and sales to you with speed, pleasure, and ease!
Feel free to share this with your team as this will help them as well.
Sunday, June 30th, 2019
We kicked off the week sharing with you 9 guiding questions to find your audience pain points.  
Before you can grow your online business you need to get clear who you're speaking to. Most network marketers are told when they first get started that "EVERYONE is your prospect."
And that's wrong. When you market to everybody you market to nobody.
I struggled when I first got started because I didn't take the time to find out who my audience is. When you know who your audience is, you'll be able to communicate to them in a way where they want to reach out to you to learn more about your product, service, or business opportunity.
If you look carefully online, especially in Facebook groups, there are MILLIONS of people who are complaining about problems that your product and/or business opportunity solves.
My results changed when I spent an hour researching what my audience's biggest pain points are. That helped me create the right content and spend my time in the right places where my audience hangs out.
So how do you find out what your audience's biggest pain points are? In the video below I'll share with you 9 guiding questions I learned from Brendon Burchard that will help you gain clarity in finding your audience's biggest pain points.
Click Here to Subscribe to My YouTube Channel
Monday, July 1st, 2019
On Monday we learned 5 questions to ask ourselves to create a story that will resonate with our target audience.
Most people when they're first getting started are afraid to tell their story because they are under the assumption that people want to hear the success and not the struggle.
They assume that nobody will want to listen to them because they don't have a title, master's degree, or super successful.
Want to know a strange secret? 
Most people relate to struggles more than successes! Nothing builds rapport faster than the sharing of struggles.
Your audience wants to know that you've had the same challenges and struggles that they are going through right now. If you're able to show them how you were able to overcome a struggle that they're going through you're giving them hope.
They're thinking to themselves "Wow, if they can do it, I can do it too!'
So how can your story build rapport with your audience? There's a specific flow to telling your story that builds rapport very quickly with your audience. 
In the video below here are 5 questions that will guide you to create a story that will not only build rapport but have more people reaching out to you.
Click Here to Subscribe to My YouTube Channel
Tuesday, July 2nd, 2019
On Tuesday I shared with you the number one skill to succeed in online marketing. I'll give you a hint – the skill is the most fundamental and it drives ALL marketing.
I gotta question for you. What's the number one skill set to succeed online.
I'll give you a little hint by telling you what it's NOT
Not SEO
Not advertising
Not the latest and greatest social media traffic strategy
This skill has been around since the beginning of time. In the video below I share with you what this skill is and how to use it to attract more people to you.
Click Here to Subscribe to My YouTube Channel
Wednesday, July 3rd, 2019
On Wednesday I shared with you a different perspective on outsourcing your business.
The other day I was reading the book "The Millionaire Messenger" by Brendon Burchard and he shared a very interesting perspective on the word outsourcing.
Before hearing Brendon's definition of outsourcing, I ascribed to Tim Ferriss's definition of outsourcing by assigning non-profit producing activities to virtual assistants.
Brendon, on the other hand, views outsourcing as another code name for procrastination. 
So how should home business owners use outsourcing? Watch the video below.
Click Here to Subscribe to My YouTube Channel
Thursday, July 4th, 2019
On Thursday we learned 4 types of lead magnets you can create that will attract your perfect prospect to you even if you're brand new and never created a lead magnet before.  
Leads are the lifeblood for your business. If you're not generating fresh leads on a daily basis for your business, you're chances of growing a profitable, sustainable online business is virtually zero.
One of the biggest challenges network marketers have in their business is having people to talk to on a regular basis.
The best way to never run out of people to talk to is to create a lead magnet. A lead magnet is giving away something of value that your prospect wants in exchange for their contact information. 
The lead magnet introduces people to who you are and how you will help them solve a problem they have.
In the video below I'm going to share with you 4 types of lead magnets you can create with ease.
Click Here to Subscribe to My YouTube Channel
Friday, July 5th, 2019
We capped off the week answering the question what's holding you back from success?
Have you ever felt that you don't think you have enough value to make a difference in the lives of others?
I was reading Brendon Burchard's book "The Millionaire Messenger" and at the end of the book he shared a story early in his career how a graduate student totally tilted his world.
When Brendon first got started he was a graduate student teaching public speaking and feeling very discouraged because he felt that he wasn't making a difference.
Then he had a student named Sarah in his class. Sarah showed up to class every day except when it came time to do the public speaking assignments. She was terrified of public speaking.
When it came time for the final speech, she approached Brendon and asked that she could be scheduled. Brendon told her that she will fail the course.
Sarah told Brendon "I don't care. I need to do this." So Brendon told her to meet with him every day until the day of the final to practice.
On the day of the final, she showed up and gave her speech. Watch the video below to learn what happens next and the lesson it holds for you.
All Caught Up on the Content From Last Week?
It's my mission to give family businesses the tools, training, and support to build an online brand that will become their legacy for generations to come.
Did you enjoy these trainings from last week? Which training resonated with you the most this week?
What will YOU do differently in the coming week that will help you build your brand and legacy because of what you've learned this week?
I'd love to know! Share it in the comments below and let's start a conversation!
More Resources for You:
How to Build Your Own Membership Site
Get Leads on Social Media With Videos
ATTRACTION MARKETING BUNDLE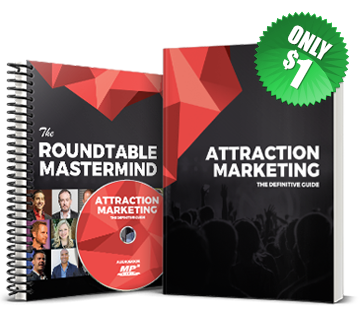 Get a 68-page "all-inclusive" e-book, 82-min mp3 audiobook, and a roundtable mastermind to help you attract buyers for YOUR business.
To Your Success,
Skype: drlisathompson
Email: [email protected]
Facebook:  facebook.com/drlisathompsontraining
Need a coach? Check out my Work With Me Page where I help people every day. 
P.S. If you're generating less than 10 leads per day for your business online, this will help you (and is on sale!)  – Click Here for Instant Access