This week's trainings focused on mindset tips that will help you attract more leads and sales to you with speed, pleasure, and ease!
Feel free to share this with your team as this will help them as well.
Sunday, May 5th, 2019
We kicked off the week learning a simple social media traffic hack that will help you get more targeted leads and sales for your biz with ZERO ad spend.
I want to introduce you to a good friend of mine Erin Birch.  She is one of the most inspiring home business entrepreneurs I know.
Erin started her network marketing business to supplement her income. As a single mom with two teenage sons, she was making less than $2,000 per month designing and making jewelry.
She failed miserably, making only $300 in her first four months. Erin was faced with a big decision. Either quit and get a job, or learn how to grow her business.
Erin chose to grow her business. But she had one big problem.
She had no money for advertising and needed to get results fast.Then she stumbled on a simple social media traffic tip that allowed her to enroll over 480 people into her business.
Erin now travels the world and teaches this simple strategy to other home business owners to have success.When she shared this with me I literally did a facepalm because it was so easy!
In the video below I share with you this simple social media traffic tip that she taught me.
Click Here to Subscribe to My YouTube Channel
Monday, May 6th, 2019
On Monday I shared with you how to handle haters who make negative comments about your business online or offiline.
When we get started with our home business, we always think that things will be smooth sailing. Or, at least I thought I DID, back in 2010. 
The journey is paved with roadblocks, detours, and challenges, with the biggest one being haters. We all have a strong human need to be liked and loved.
Have you been getting negative comments on your blog posts, social media posts, or nasty unsubscribe messages from your email list?
Yeah, it sucks at first when you experience it….. BUT… It means you're closer to success more than you realize.
In this video I share with you my best tips on how to handle haters.
Click Here to Subscribe to My YouTube Channel
Tuesday, May 7th, 2019
On Tuesday I shared with you a HUGE lesson I learned when it comes to productivity and managing time when it comes to building my home business so you don't make the same mistakes I did.
One thing I've learned to appreciate when building my business is not money, but TIME. You can always make money back, but not your time.
And when you work on your business it can be easy to fall into the trap of engaging in activities that don't make you money.  In the video below I'll share with how how I fell into that trap and the lesson I learned from it.
Click Here to Subscribe to My YouTube Channel
Wednesday, May 8th, 2019
On Wednesday I shared with you with you my takeaways from Tiger Woods recent win at the Masters Golf Tournament and how it impacts home business owners.
Did you know that the last time Tiger Woods won a major PGA championship was in 2008?
He went through a period where things weren't going well for him as a golfer and in his personal life. Many people went public to say that his career is finished.
Yet, he didn't give up.
In the video below I'm going to share with you the biggest lessons I learned from Tiger Woods when it comes to building my home business during adversity.
Click Here to Subscribe to My YouTube Channel
Thursday, May 9th, 2019
On Thursday I shared with you the #1 secret to making money online. When you understand this concept you will never have to worry about running out of people to talk to ever again.
One thing that I really struggled with when I first go started with my business was posting my business links everywhere. I thought that everyone would benefit from my product, service, or business opportunity.
What happened was the exact opposite. I wound up alienating my friends and family and hearing a lot of "NO's". I made no money and my frustration increased daily.
Then in 2013 I met my mentors who taught me the simple secret to making money online and to took me from frustration to making money on a consistent basis.
Click Here to Subscribe to My YouTube Channel
Friday, May 10th, 2019
We capped off the week learning one of the biggest breakthroughs I had when reading Grant Cardone's "Be Obsessed or Be Average" Book.
Grant Cardone is one of the top entrepreneurs in the industry. His specialty is helping companies and people customize their sales process to be more effective.
His book "The 10X Rule". "Sell or Be Sold", and "Be Obsessed or Be Average" are a must for your success library.
In the book "Be Obsessed or Be Average" Grant describes his journey from being a broke, obsessed drug addict to being obsessed with success. The book is not just for sales people. It's for anyone who's looking to achieve success in their life.
Inside of this video I share with you one of the biggest takeaways I had from the book.
All Caught Up on the Content From Last Week?
It's my mission to give family businesses the tools, training, and support to build an online brand that will become their legacy for generations to come.
Did you enjoy these trainings from last week? Which training resonated with you the most this week?
What will YOU do differently in the coming week that will help you build your brand and legacy because of what you've learned this week?
I'd love to know! Share it in the comments below and let's start a conversation!
More Resources for You:
Get Leads on Social Media With Videos
ATTRACTION MARKETING BUNDLE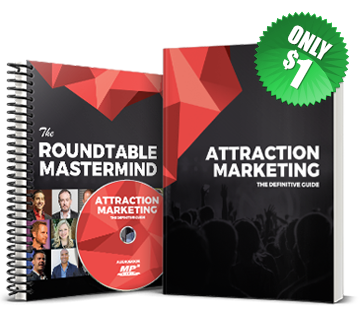 Get a 68-page "all-inclusive" e-book, 82-min mp3 audiobook, and a roundtable mastermind to help you attract buyers for YOUR business.
To Your Success,
Skype: drlisathompson
Email: [email protected]
Facebook:  facebook.com/drlisathompsontraining
Need a coach? Check out my Work With Me Page where I help people every day. 
P.S. If you're generating less than 10 leads per day for your business online, this will help you (and is on sale!)  – Click Here for Instant Access