We are heading into the final month of 2018. The top earners hit the ground running during the month of December to generate leads and sales to give them unstoppable momentum in January.
This week's trainings focus on how to use Facebook and mindset training to get more leads and sales on autopilot while you spend time with your family this Holiday season.
Feel free to share this with your team as this will help them as well.
Sunday, November 25th, 2018
We kicked off the week learning how to use ManyChat to enroll more reps into your business. If you're looking to automate the selling process so you can spend more time with your family, this will definitely help you out.
More people are using messaging apps to communicate with each other instead of email.
People are getting tired of opting in to a landing page and will often give you a wrong email address and never engage with you.
Here's the magic of Facebook messenger marketing comes in. ManyChat is a Facebook messenger bot where you can upload messages that can pre-qualify prospects so you can speak only to people who are interested in your product, service, or business opportunity.
My pal and Facebook marketing expert Antonio Thompson shared a case study of how one of his students used ManyChat to enroll reps into her business and rank advance 3 times!
In the video below I share with you how his students did it using ManyChat.
Click Here to Subscribe to My YouTube Channel
Monday, November 26th, 2018
On Monday we learned my best Facebook fan page content tips to help you attract your perfect prospect to you with speed, pleasure, and ease.
How would you like to have people reaching out to you begging to learn more about your product, service, or business?
The way you do that is through creating content your audience wants!
In the video below I'll share with you my best Facebook fan page content tips around what type of content you need to create as well as how often to post to get people reaching out to you on a daily basis.
Click Here to Subscribe to My YouTube Channel
Tuesday, November 27th, 2018
On Tuesday we learned the 5 words that are holding you back from success in all areas of your life.
You get to keep what you speak. The language you tell yourself dictates how successful you will be in managing your life.
Recently I participated in a 14 day challenge with Ray Higdon where he showed us how to craft a message via video to attract more people to you.
Some challengers were struggling because of the language they were using. Ray shared the 5 words that can derail your progress before you even begin. Are you using these 5 words in your vocabulary?
If so, here are some suggestions as well to help you eradicate them from your vocabulary.
Click Here to Subscribe to My YouTube Channel
Wednesday, November 28th, 2018
On Wednesday we learned 9 profitable content ideas that will help you create content on a consistent basis.
The key to a successful online business is to build a highly engaged audience that will buy from you.
One of the biggest challenges people with creating content is creating consistent content to keep your audience interested.
People's attention spans are so short these days, if you don't have consistent content to put in front of your audience, they will forget about you.
Inside of this video I share with you 9 different ways to create profitable content ideas that will keep your audience interested, coming back, and wanting to buy from you.
Click Here to Subscribe to My YouTube Channel
Thursday, November 29th, 2018
On Thursday we learned 4 phrases to create loyal buyers that will help you go from struggling to becoming magnetically attractive to your leads.
As a marketer, your objective is to get your customer's attention, hold it, and then make the sale.
The problem is, all you have in your arsenal to accomplish all of this is words.
Whether you're writing sales copy, recording a video or even speaking to a live audience at a conference, it's the words you use that will make or break your conversion rate.
Let me give you an example:
You want people to opt in to your mailing list. On your button, you place a call to action. You could use, "Click here," or "Sign up" or "Join us." The command, "Click here" can create instant resistance from the visitor.
"Maybe I don't want to!" "Sign up" sounds like a commitment. "That's what they said when I joined the Army – no thanks!"
But "Join us" evokes a sense of community, of being one of the 'gang.'
Imagine walking into a restaurant, seeing someone you've only once met briefly, but they smile, stand up, reach out their hand and say, "Won't you please join us?"
It's pretty hard to say no to that!
But if they pulled out a chair and commanded, "SIT HERE!" You likely would say, "No thanks!"
It's the exact same offer but presented in two different ways.
And if, when it comes to conversions, you subscribe to the fact that EVERY – SINGLE – WORD – COUNTS, then wouldn't it be nice to have a LIST of words that YOU can count on to work for you?
In the video below, you'll learn 4 phrases that you can use that will create a community of loyal buyers.
Click Here to Subscribe to My YouTube Channel
Friday, November 30th, 2018
We capped off the week learning 9 social networking phrases by content marketing specialist Neil Patel which will help you get more shares and sales.
For the past several years Neil has been studying the most shared pieces of content on Facebook, Google+. LinkedIn, and YouTube.
He discovered that across all of these social networks, the most shared pieces of content contained one or more of the following words.
The more your content gets shared the more exposure you get which leads to more leads and sales for your business.
In the video below here are 9 social networking phrases from Neil Patel that will help you get your content more shares, leads, reps, and customers.
All Caught Up on the Content From Last Week?
It's my mission to give family businesses the tools, training, and support to build an online brand that will become their legacy for generations to come.
Did you enjoy these trainings from last week? Which training resonated with you the most this week?
What will YOU do differently in the coming week that will help you build your brand and legacy because of what you've learned this week?
I'd love to know! Share it in the comments below and let's start a conversation!
More Resources for You:
Facebook Messenger Marketing Guide
ATTRACTION MARKETING BUNDLE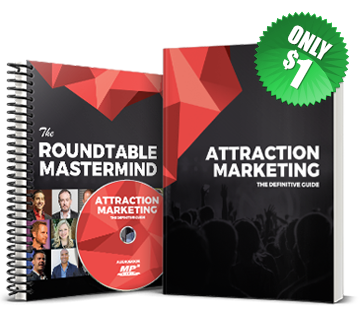 Get a 68-page "all-inclusive" e-book, 82-min mp3 audiobook, and a roundtable mastermind to help you attract buyers for YOUR business.
To Your Success,
Skype: drlisathompson
Email: [email protected]
Facebook:  facebook.com/drlisathompsontraining
Need a coach? Check out my Work With Me Page where I help people every day. 
P.S. If you're generating less than 10 leads per day for your business online, this will help you (and is on sale!)  – Click Here for Instant Access