This week's trainings focused on content creation and how to beat procrastination that will help you attract more leads and sales to you with speed, pleasure, and ease!
Feel free to share this with your team as this will help them as well.
Monday, September 9th, 2019
On Monday I shared with you how to use 4 free tools that will help you come up with unlimited content your audience will love.
The key to building a profitable, stable online business is to build a highly engaged audience before you can sell to them.
However, one of the biggest challenges is to come up with consistent, quality content that keeps people interested and coming back.
You're not alone. It's not only a problem for newbie marketers, but for veterans as well.
I've got some good news for you. I have 4 tools that will help you come up with ideas for unlimited content.
Best part is, these tools are free to use. I give a demo of each tool in the video below.
Click Here to Subscribe to My YouTube Channel
Tuesday, September 10th, 2019
On Tuesday I shared with you how to stop caring what people think of you as your build your business.
One of the biggest fears we have when building a business are what others think. We put so much emphasis on what our friends, family, and colleagues think which affects the story we tell ourselves.
My friend and mentor Ray Higdon told me "other people's opinions don't pay your bills."
So what do you say when people leave comments on your social media posts, private messages, text messages, or in person that are negative toward your business?
In the video below I share with you how to respond with posture.
Click Here to Subscribe to My YouTube Channel
Wednesday, September 11th, 2019
On Wednesday I shared with you how to build your business 5 seconds at a time.
Picture this scenario. You come home from work after a long day and you're beat down to your socks.
But you know that you have to work on your business.
You get out your laptop and you start to work, but Netflix sounds so tempting.
What do you do? How do you get yourself to take action?
It's quite easy and you can do it in just 5 seconds. I explain more in the video below.
Click Here to Subscribe to My YouTube Channel
Thursday, September 12th, 2019
On Thursday I shared with you a 5 second productivity tip to get more done in less time in your business.
Do you ever feel guilty that you're neglecting your family when you're working your business especially when you're not getting results? 
You're not alone. When building a business it's so easy to lose track of time especially when you're reaching out to prospects or creating content.
So how do you find balance to build your business while spending time with your family.
It involves a very simple step and it takes only 5 seconds.
I explain more in the video below.
Click Here to Subscribe to My YouTube Channel
Friday, September 13th, 2019
We capped off the week learning 3 procrastination tips that will help you get into massive action mode.
How do you define procrastination? Most people would say "putting off something you know needs to be done."
Mel Robbins in her book The 5 Second Rule describes procrastination as a way to avoid stress. 
Think about this. You know you have to reach out to prospects to see if they're open to taking a look at your product, service, or business opportunity. 
Let's face it. It can be very stressful to reach out and talk to and follow up with people. 
As human beings we seek the path of least resistance and watching Netflix is less stressful than prospecting.
With that said, how do you break free of this mindset? I explain more in the video below 3 tips I learned from Mel Robbins.
All Caught Up on the Content From Last Week?
It's my mission to give family businesses the tools, training, and support to build an online brand that will become their legacy for generations to come.
Did you enjoy these trainings from last week? Which training resonated with you the most this week?
What will YOU do differently in the coming week that will help you build your brand and legacy because of what you've learned this week?
I'd love to know! Share it in the comments below and let's start a conversation!
More Resources for You:
How to Build Your Own Membership Site
Get Leads on Social Media With Videos
ATTRACTION MARKETING BUNDLE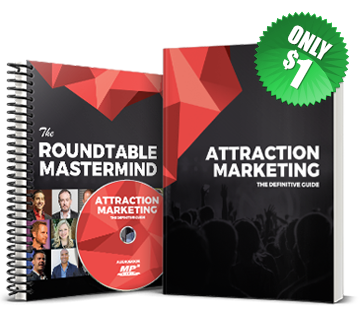 Get a 68-page "all-inclusive" e-book, 82-min mp3 audiobook, and a roundtable mastermind to help you attract buyers for YOUR business.
To Your Success,
Skype: drlisathompson
Email: [email protected]
Facebook:  facebook.com/drlisathompsontraining
Need a coach? Check out my Work With Me Page where I help people every day. 
P.S. If you're generating less than 10 leads per day for your business online, this will help you (and is on sale!)  – Click Here for Instant Access