This week's trainings focused on social media, prospecting, and mindset tips that will help you attract more leads and sales to you with speed, pleasure, and ease!
Feel free to share this with your team as this will help them as well.
Monday, September 16th, 2019
On Monday I shared with you how to get over your fear of doing your first FB live in just 5 seconds.
FB live videos are one of the easiest ways to get more people reaching out to you to learn more about your product, service, or business opportunity.
Most people are afraid to do Facebook live videos because of how they will sound or they don't feel like they don't have any value to share with the world.
However, what makes people procrastinate to doing FB live videos? According to Mel Robbins 5 Second Rule, people procrastinate because watching Netflix gives makes you feel good in the short term. 
With that said, how do you get over your fear of FB live videos? 
First, you need to ask yourself two questions. Second, you implement Mel Robbins 5 Second Rule.
In the video below I share with you how to get over your fear of FB live video in just 5 seconds!
Click Here to Subscribe to My YouTube Channel
Tuesday, September 17th, 2019
On Tuesday I shared with you how to use The Agreement Challenge to help you overcome your prospect's objections.
A few weeks ago I made the decision to enroll in Grant Cardone's Cardone University. One of the first rules of selling Grant teachers is to always agree with the customer.
Why?
Because when making sales, opposites don't attract.  
Most prospects are anticipating that you'll disagree with them by overcoming their objections by disagreeing with them. When you disagree with them, you're giving them power.
Where there is conflict there is no sale.
When you agree with them, you are disarming them and opening them up to a new way of thinking that will get them to see your point of view. And remember, people do business with those who they know, like, and trust.
Here's the challenge. We tend to disagree with people we interact with on a daily basis, and have become so conditioned to it that we are literally unaware that we're doing it.
Why? Because we all have the insatiable need to be right.
So how do we get over this need to be right and agree with the customer? Grant gave us a simple assignment to do called The Agreement Challenge. 
I explain more what the challenge is in the video below.
Click Here to Subscribe to My YouTube Channel
Wednesday, September 18th, 2019
On Wednesday I shared with you how to overcome anxiety while prospecting online and the best part is it takes only 5 seconds!
Did you know that your body responds the same way when anxious or excited? Your heart rate goes up and you get a queasy feeling in the stomach.
It's part of your body's basic survival instinct to either fight or remove yourself from danger.
So how do you take your basic survival instinct to get you to overcome your anxiety and take action?
I explain more in the video below.
Click Here to Subscribe to My YouTube Channel
Thursday, September 19th, 2019
On Thursday I shared with you how to magically attract your dream prospect to you with ease.
One of the most frustrating things when it comes to network marketing is making out the dreaded list of 100. The list of family, friends, and/or people you know.
Your sponsor told you to write out to that list and then talk to everyone on that list. But guess what happens?
Friends and family stop taking your calls or even unfriend/block you on Facebook. 
Sound familiar?
So you go back to your sponsor and tell them you've been through your list and they will tell you "EVERYONE'S" your prospect.
That violates the number one rule of marketing. When you market to everyone you're marketing to no one.
What do we do next? We take our message and then post it everywhere on social media which can land us in trouble. 
With that said, how do we find our dream prospects? 
I explain more in the video below.
Click Here to Subscribe to My YouTube Channel
Friday, September 20th, 2019
We capped off the week learning how to overcome the summer slump in your business.
The summer season can be slow for business as many people are out on summer vacations. However, you need to be careful when describing your business during this time.
Why?
Couple of reasons. 
First, whatever you argue for you get to keep. So if you say "my business is in the summer slump", you'll attract more slumps into your business.
Second, people are watching everything you do from the words you say to what you post on social media. Nobody likes to be associated with complainers and being negative.
So how do you overcome this? Watch the video below.
All Caught Up on the Content From Last Week?
It's my mission to give family businesses the tools, training, and support to build an online brand that will become their legacy for generations to come.
Did you enjoy these trainings from last week? Which training resonated with you the most this week?
What will YOU do differently in the coming week that will help you build your brand and legacy because of what you've learned this week?
I'd love to know! Share it in the comments below and let's start a conversation!
More Resources for You:
How to Build Your Own Membership Site
Get Leads on Social Media With Videos
ATTRACTION MARKETING BUNDLE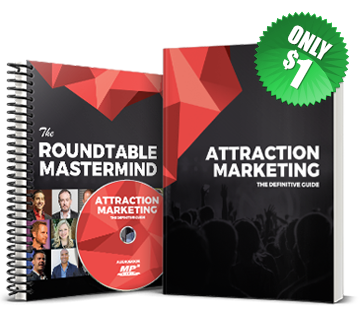 Get a 68-page "all-inclusive" e-book, 82-min mp3 audiobook, and a roundtable mastermind to help you attract buyers for YOUR business.
To Your Success,
Skype: drlisathompson
Email: [email protected]
Facebook:  facebook.com/drlisathompsontraining
Need a coach? Check out my Work With Me Page where I help people every day. 
P.S. If you're generating less than 10 leads per day for your business online, this will help you (and is on sale!)  – Click Here for Instant Access