This week's trainings focused on productivity and mindset tips that will help you attract more leads and sales to you with speed, pleasure, and ease!
Feel free to share this with your team as this will help them as well.
Monday, September 29th, 2019
On Monday I shared with you how to become popular on social media without relying on trying to beat the social media algorithms.
Over the last few years, there has been many courses out there on social media that are looking to hack the algorithms to get their posts to stay longer in the news feed. 
One of my good friends and home business expert Diane Hochman says "You'll never make money using techniques and algorithms. The marketplace knows too much. It's time to step back and focus on HUMANS, not numbers."
In other words, people are looking to make a genuine connection online.
I explain more in the video how to become popular on social media using this simple human connection techniques.  
Click Here to Subscribe to My YouTube Channel
Tuesday, October 1st, 2019
On Tuesday I shared with you simple strategy how to get out of learning mode and into taking action mode.
One of the biggest challenges I've had to face in my business is just getting started. 
Let me explain.
When I got started I felt that I needed to learn EVERYTHING about marketing and traffic before getting started. I watched a lot of webinars and purchased a lot of products.
Want to know what happened? I became so overwhelmed that it literally paralyzed me.
You see, our brains are pattern seeking mechanisms and are always looking to complete tasks in the most efficient amount of time.
When we give our brain too much information at one time it becomes confused. And a confused mind never learns and never takes action.
So how did I overcome this? Watch the video below to find out.
Click Here to Subscribe to My YouTube Channel
Wednesday, October 2nd, 2019
On Wednesday I shared with you the 2 P's of success that will help you build the 6 figure business of your dreams.
Building a successful home business is not easy. There are seasons when things are going good where you're getting leads, reps, and customers like clockwork and you see your residual income checks going up.
Then there are seasons when people leave your organization and customers stop their autoship.
How do you handle those challenging times? 
You have to master the 2 P's of success which is patience and persistence. These are 2 disciplines that separate the successful from the unsuccessful in business.
I explain more in the video below.
Click Here to Subscribe to My YouTube Channel
Thursday, October 3rd, 2019
On Thursday I shared with you 2 simple part-time productivity tips that will help you find more time to build your business in the nooks and crannies of your day.
When I started my home business in 2010 I had many "spirited debates" with my spouse that I was spending too much time building the business at expense of family time.
And he did have a point. And I was feeling very guilty because I was working so hard, not getting results, and getting burned out in the process.
The reason I started my business was to have MORE time with my family, not less.
I had to work smarter not harder. So I started studying the top earners and productivity books to see how I can leverage my time better so I can not only get results, but also balance my time.
I found 2 tips that helped me find the balance that I needed. I explain more in the video below.
Click Here to Subscribe to My YouTube Channel
Friday, October 4th, 2019
We capped off the week learning a 15 minute prospecting tip that will help you how to reach out to more people in the nooks and crannies of your day.
Leads are the lifeblood of your business. If you're not talking to people every day you're not going to make money. Period.
Let's face it. It can be a real struggle to find time to prospect people when you're juggling a job and family.
The other day I was listening to Grant Cardone's podcast Young Hustlers where Grant's right hand man Jarrod Glandt shared a tip that helped him get more consistent with prospecting. Best part is, it only took 15 minutes.
Initially I was skeptical, but I took a leap of faith and applied Jarrod's technique. And sure enough, it worked!
I was able to reach out to more people in 15 minutes and felt productive. And I became more consistent, resulting in increased sales.
I explain more in the video below.
All Caught Up on the Content From Last Week?
It's my mission to give family businesses the tools, training, and support to build an online brand that will become their legacy for generations to come.
Did you enjoy these trainings from last week? Which training resonated with you the most this week?
What will YOU do differently in the coming week that will help you build your brand and legacy because of what you've learned this week?
I'd love to know! Share it in the comments below and let's start a conversation!
More Resources for You:
How to Build Your Own Membership Site
3 Step Daily Method of Operation to Get Leads on Social Media
Get Leads on Social Media With Videos
ATTRACTION MARKETING BUNDLE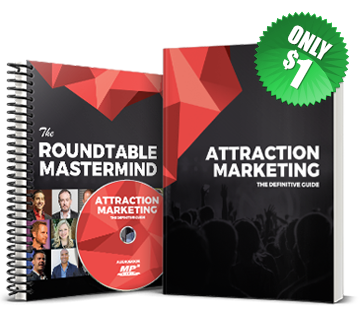 Get a 68-page "all-inclusive" e-book, 82-min mp3 audiobook, and a roundtable mastermind to help you attract buyers for YOUR business.
To Your Success,
Skype: drlisathompson
Email: [email protected]
Facebook:  facebook.com/drlisathompsontraining
Need a coach? Check out my Work With Me Page where I help people every day. 
P.S. If you're generating less than 10 leads per day for your business online, this will help you (and is on sale!)  – Click Here for Instant Access