This week's trainings focused on mindset and prospecting tips that will help you attract more leads and sales to you with speed, pleasure, and ease!
Feel free to share this with your team as this will help them as well.
Sunday, July 7th, 2019
We kicked off the week sharing with you how to develop your consistency muscle.
Do you want to know why so many people fail in business? It comes down to two things.
First, having a clear vision of WHY you're doing business.
Second, developing consistency muscle. 
Over the last 2 years I've learned that consistency is developed when you have the right mindset when goal setting. 
Let me explain.
We've all been taught to set goals after a specific result. BUT, then we become too emotionally attached to achieving a specific result within a specific time frame.
And we get discouraged and quit when we don't achieve the result in the specified time period.
My mentor Ray Higdon told me two years ago, "You can't control the speed of the result. You can only control the activities you do every day."
What I started doing was I set a 90 day goal and then I set weekly activity goals that help me get closer to my result goal. Examples of my activity goals are:
Prospect 100 people this week
Do 7 Facebook live videos
Write 7 emails to my list this week
Write 1 blog post/day
If you're still struggling with developing your consistency muscle, in the video below I share with you a few guiding questions my friend Angel Fletcher.
Click Here to Subscribe to My YouTube Channel
Monday, July 8th, 2019
On Monday we learned how the McDonald's brothers created the fast food restaurant model we know today, but it took Ray Kroc to make it a global phenomenon.
There are some pretty important lessons for home business owners as well.
Recently I came across the movie "The Founder" on Netflix which chronicles the story of how McDonald's came to be. Ray Kroc was down and out on his luck selling milkshake machines.
Then he meets the McDonald's brothers and everything changes. If you haven't watched the movie on Netflix, I highly suggest that you do. You can watch the trailer below….
Here's what's interesting. Why was it that Ray Kroc is considered one of the most beloved entrepreneurs of the 20th Century, and the McDonald's brother's failed?
John Maxwell has a great theory on why the McDonald's brothers couldn't duplicate what Ray Kroc did. And it all came down to mindset. I explain more in the video below.
Click Here to Subscribe to My YouTube Channel
Tuesday, July 9th, 2019
On Tuesday I shared with you 2 simple prospecting tips that will help you get more eyeballs on your presentation with ease!
One of the most important skills you must master in your network marketing business is prospecting.
MLM prospecting is the lifeblood of your business. If you're no there seeing if people are interested in your product, service, or business opportunity you will not make any money period.
I remember when I first got started I was so afraid to prospect because I was afraid of the word "NO." So I went out out and decided to learn marketing, believing that I could build a business without talking to people.
Boy was I wrong! You see, when I did marketing to drive traffic to my website to get leads, I still had to talk to those leads. 
I always felt that I had to sound like a used car salesman to get people to say "YES". 
And I didn't know what to say or how to follow up. Then in 2013 I met my mentor Ray Higdon and he taught me 2 MLM prospecting tips that made me overcome my fear of talking to leads.
Watch the video below where I share with you exactly what Ray taught me.
Click Here to Subscribe to My YouTube Channel
Wednesday, July 10th, 2019
On Wednesday I shared with you a you'll learn an important distinction between events and processes that will help you take the right actions on a daily basis to get results.
When you're building your business in the nooks and crannies of your day you need to focus on three fundamental income producing activities:
Meet 10 new people every single day. This is easy to do online
You need to create one new piece of content every single day to attract more people to you
You need to write to your email list once per day to follow up and build relationships.
So why don't we take consistent action on a part-time basis? We haven't embraced The Law of Process and we are too event focused. I explain more in the video below.
In the video below I share with you what The Law of Process is and how to use it to start getting results.
Click Here to Subscribe to My YouTube Channel
Thursday, July 11th, 2019
On Thursday we learned an important lesson from heavyweight boxing champ Joe Frazier how to create a daily routine.
Developing consistency is one of the core skills that determines your success or failure in your business. 
Do you know what separates the top earners from the wannabes? It's how they show up every day. 
They developed a daily routine and method of operation focusing on income producing activities. And you know what?
Those income producing activities took time to build. They didn't see results right away.
They went through periods of days, weeks, months, and even YEARS hearing "NO" over and over again.
They had to go people leaving their organization, company shutting down, or customers stopping their autoship. 
Yet through all of that, their audience was watching them. You see, whether you know it or not, your audience is watching you not only your successes, but how to handle adversity.
In his book 21 Irrefutable Laws of Leadership, John Maxwell shared a powerful quote by former heavyweight boxing champ Joe Frazier.
"You can map out a fight plan or a life plan, but when the action starts, it may not go the way you planned, and you're down to your reflexes – that means your preparation. That's where your roadwork shows. If you cheated on that in the dark of the morning, well, you're going to get found out now, under the bright lights." – Joe Frazier
In the video below I share with you additional insights I learned from this Joe Frazier quote.
Click Here to Subscribe to My YouTube Channel
Friday, July 12th, 2019
We capped off the week very simple prospecting script that you can use with your cold market that will get more people open to watching your presentation.
Prospecting is the most important skill you need to develop as a network marketer. However, many people equate prospecting with building rapport prior to asking if they are open to your product or business opportunity.
This was something I struggled with in my network marketing business. I did what my sponsors told me to do in building rapport.
However, the longer I built rapport, the more my fear and anxiety rose when it came time to "pop the question" to see if they're open. 
Then I went through a training with my mentor Ray Higdon who taught me that taking time building rapport is not duplicatable because most people are shy. 
Ray showed me a simple cold market prospecting script that helped me increase my results and I wound up enrolling more reps and customers into my business.
I explain the script in the video below.
All Caught Up on the Content From Last Week?
It's my mission to give family businesses the tools, training, and support to build an online brand that will become their legacy for generations to come.
Did you enjoy these trainings from last week? Which training resonated with you the most this week?
What will YOU do differently in the coming week that will help you build your brand and legacy because of what you've learned this week?
I'd love to know! Share it in the comments below and let's start a conversation!
More Resources for You:
How to Build Your Own Membership Site
Get Leads on Social Media With Videos
ATTRACTION MARKETING BUNDLE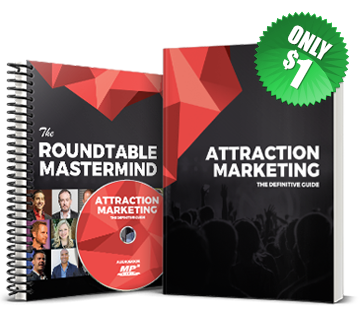 Get a 68-page "all-inclusive" e-book, 82-min mp3 audiobook, and a roundtable mastermind to help you attract buyers for YOUR business.
To Your Success,
Skype: drlisathompson
Email: [email protected]
Facebook:  facebook.com/drlisathompsontraining
Need a coach? Check out my Work With Me Page where I help people every day. 
P.S. If you're generating less than 10 leads per day for your business online, this will help you (and is on sale!)  – Click Here for Instant Access